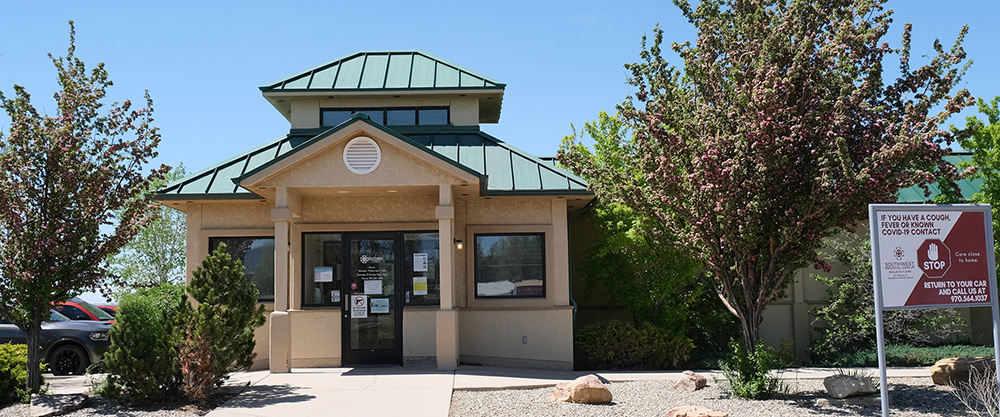 Southwest Medical Group – Walk-in Clinic
Address: 1413 North Mildred Road, Cortez, CO 81321
Phone: 970-564-1037 Fax: 970-564-1041
Southwest Walk-In Care does not provide ongoing care for patients, but individuals may seek attention when their primary healthcare provider is unavailable.
Children over the age of six months may be seen at the clinic. Patients are encouraged to bring a list of their current medications when they visit the center. Narcotics are not kept on the premises. X-Ray is not available at the Walk-In Clinic.
Minor Allergic Reactions
Colds, Cough, Flu, Mild Fever, Sore Throat, or Bronchitis
Sinus or Respiratory Infection
Flu, RSV, or Strep Throat (Testing available.)
Sutures and Suture Removal
Ear or Eye Infections
Headaches
Rashes, Insect Bites and Infections
Minor Cuts, Lacerations, and Burns
Dizziness or Suspected Concussion
Vomiting, Diarrhea, and Indigestion
Sprains, Strains, and Sports Injuries
Burning on Urination or Urinary Tract Infection
Initial Workman's Compensation Evaluations
Sports Physicals
The clinic accepts most major insurance plans, as well as Medicare and Medicaid. Copays are due at the time of service. Patients without insurance should be prepared to pay for care at the time of service or make payment arrangements in advance with clinic staff.