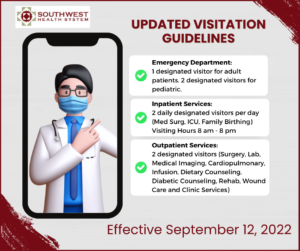 Updated Visitor Guidelines – EFFECTIVE Monday, September 12, 2022
Visiting Hours 8:00 a.m. – 8:00 p.m.
Emergency Department:
Emergency Department will allow 1 (one) designated person to provide support for adult patients and 2 (two) designated persons for pediatric patients. The designated visitor(s) shall not be permitted to swap places with additional visitors.
Adult patients who are placed in isolation and after being stabilized may be allowed 1 (one) designated visitor.
Visitors with all Emergency Department patients will not exchange places with additional visitors unless authorized by ED staff.
Inpatient Services:
2 daily designated visitors per day (Med Surg, ICU, Family Birthing)
Outpatient Services:
2 designated visitors (Surgery, Lab, Medical Imaging, Cardiopulmonary, Infusion, Dietary Counseling, Diabetic Counseling, Rehab, Wound Care, and Clinic Services)
Concierge will continue to perform temperature screenings at the designated entrances and everyone entering the SHS facility over 2 years old must wear a face-covering/mask.
For the safety of the visitor, health care personnel, and the general public; suspected and confirmed COVID-19 patients should postpone visitation until their isolation status has been lifted.
If the patient who is COVID-19 positive requires a support person, accommodations will be made to ensure infection control and safety practices are met while balancing the needs of the patient.
We encourage patients to utilize online bill pay options or pay by phone at 970-564-2130 and call ahead if medical records are needed at 970-564-2311. Patient Financial Services (bill pay) and medical records will be available but ask that patients please call ahead if you're needing to meet with them in person regarding records or any billing questions.
These regulations will remain in place until further notice and will be continually reevaluated. The most current information will be available on Facebook at facebook.com/SWhealthsystem and www.swhealth.org.